Assured Murray sails into quarters
By
Luke Sefton
for
MurraysWorld.com
on
August 15, 2013, 10:55 PM
An untroubled Andy Murray wasted no time in reaching his eighth quarter-final of 2013, breezing past Julien Benneteau with a comfortable 6-2, 6-2 victory in the Western and Southern Open.

Murray is looking for his third title here in Cincinnati, having previously claimed the title in 2008 and 2011. And the Scot was in good form today, facing just the single break point and hitting 18 winners as he crushed his French opponent.




The Wimbledon champion got off to the perfect start, racing into a 4-0 lead as he looked to make his first Masters quarter final since Miami. The Brit was aided by a wayward Benneteau, who was regularly finding the tramlines with poorly timed groundstrokes.

The Frenchman eventually settled in game five and started to turn up the heat, hitting a couple of scorching efforts from the baseline as he looked to overpower the Brit. But Murray responded in kind, serving the set out to love to take it 6-2 with a couple of forehand winners.

Benneteau was unable to sustain the level he had found towards the end of the opening set, and he gifted Murray the early break in the second after a couple of double faults. The Frenchman looked to bounce straight back, but whenever it looked like he might threaten Murray would slam the door in his face; regularly fending away the danger with some big serving and solid defending.

The world number 36 was starting to impose himself upon the rallies, and in the sixth game of the set he earned his first break point. But Murray responded aggressively, snuffing out the danger with some heavy hitting before forging out a 4-2 lead.

And Benneteau paid the price. In the rally of the match Murray chased down an angled slice to fire a forehand past the Frenchman, before an emphatic backhand winner took it to deuce. The Frenchman - visibly tired from the earlier rally – folded, with a couple of unforced errors handing Murray the double break.

And the Scot sealed the match in emphatic fashion, firing down his 7th ace on the first match point to book his place in the quarter-finals.

In the last eight Murray will take on the winner of Tomas Berdych and Tommy Robredo. The world number two needs to make the semi-finals to secure his top two seeding for the US Open.

Match stats: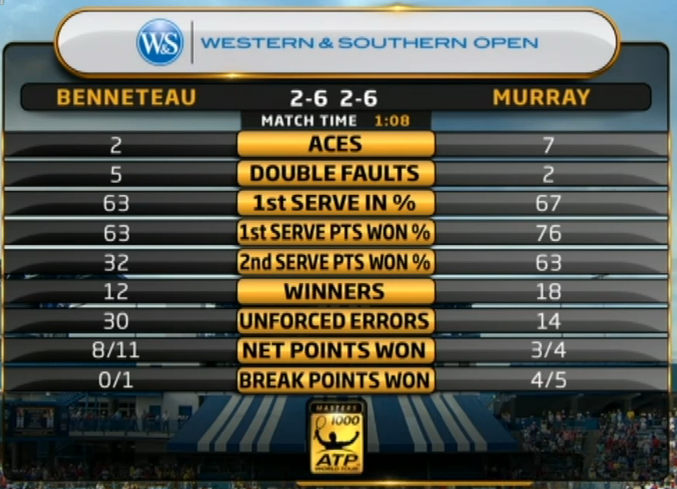 August 15, 2013, 11:01 PM
By TheMadHatter
Cruise control for El Tradesmano
August 15, 2013, 11:04 PM
By ProdigyEng
Thanks for the very good report Luke. Let's hope this second comfortable will have been enough to warm Andy up for his match against Berdych.
August 16, 2013, 01:48 AM
By Aileen
Thanks for the report TMH.......nice to see Andy looking relaxed and in such great shape! He may have a tougher one tonight against Birdy, but I won't worry about that nearly as much as I used to! Andy's on fire!
August 16, 2013, 06:59 AM
By Caz
Thanks for match report Luke and for match stats - always useful to have.
Thought Andy was in imperious form. Some wonderful shots. He just didn't allow Benneteau to play his game for most of the match though, as you say, occasionally we got a glimpse of what he's capable of.
August 16, 2013, 07:10 AM
By Ruthie
Good,clear match report Luke, Andy looked relaxed and focused on the job in hand. He came out with a game plan and executed it, not allowing Benneteau to play his game.
August 16, 2013, 08:07 AM
By michelle
Thankyou for the match report TMH. I bet today's match against Berdych won't be so easy.
August 16, 2013, 09:10 AM
By janscribe